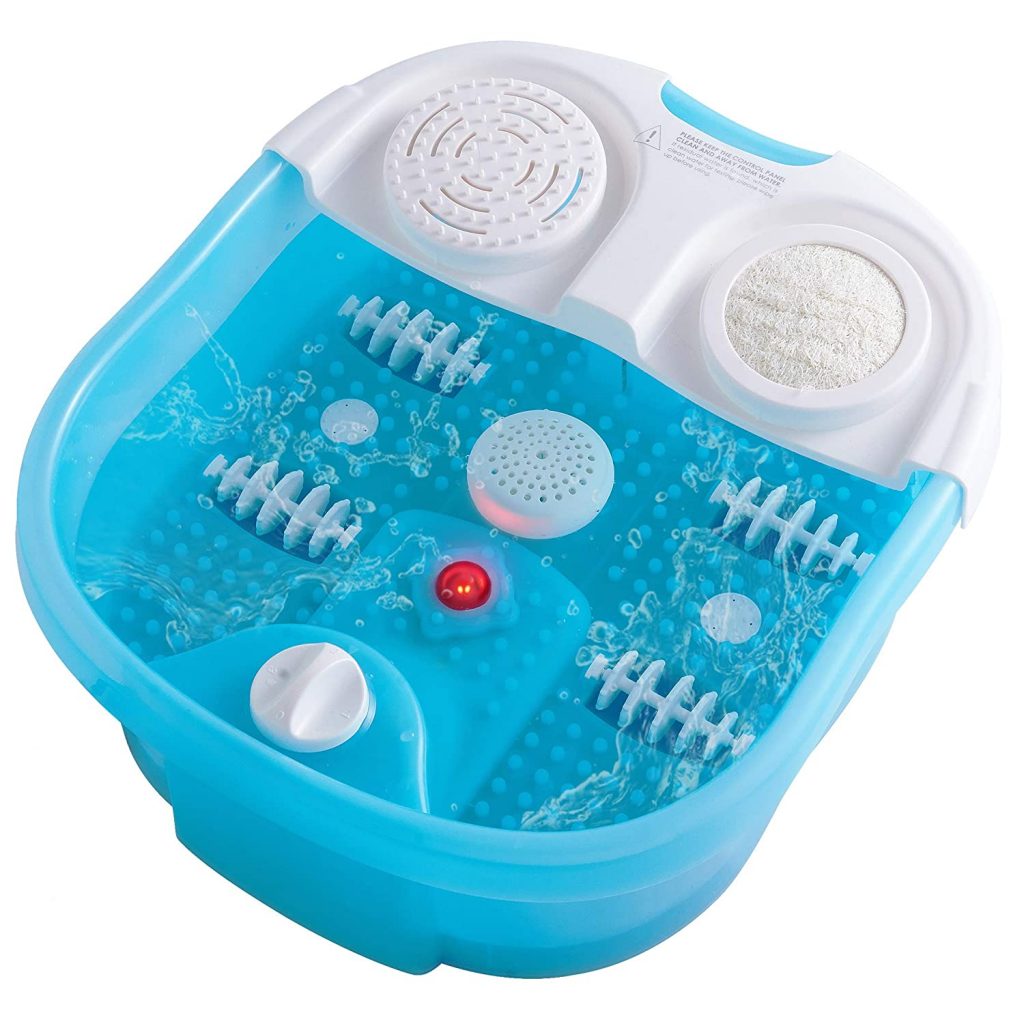 yosager Foot Spa with Heat, Bubbles Foot Bath Tub, Foot Massager with Infrared Relieve Stress, Pedicure Spa, Preserve Invariable Temperature, 4 Massage Rollers
Brand: yosager
Material: Plastic
Power Source: Corded Electric
Price: $39.98
[Foot Spa Bath]: The 13.3″x15.4″x7″ Yosager Foot Spa Pro soaks away your tension with water massage. Your feet will be energized with manual shiatsu massage from underwater massage rollers. The product is ETL certified, it is completely safe to use and operate. Ideal for use after work, after intense gym workouts or after outdoor activities. This portable foot spa is suitable for most women and kids, it can hold feet below men size 10.
[Simple Operation]: This foot massage spa is easy to operate. It has a set of four knobs that provide different functions. Setting 0: switch program knob on power; setting 1: bubble and keep warm function; setting 2: red light(infrared) and keep warm function; setting 3: bubble and red light(infrared) function(does not keep water warm). This spa tub was being tested with water at factory, it is NORMALLY that if there are any water drops left inside the tub.
[Infrared Light & Bubbles]: Specially customized oxygen bubble function can effectively relax your feet, accelerate metabolism, and add more comfort to your foot spa massage.Special infrared light can sterilize your feet and relieve stress. High quality PTC heating semiconductor is used for fast heating, maintaining constant temperature 118 ℉(48 ℃) and multiple insulation protection. You can enjoy it without worrying about safety.
[4 Massage Rollers]: There are abundant acupoints in the sole of the foot, the massage rollers can effectively stimulate the acupoints of the foot. Cooperate with hot water, not only alleviate foot soreness, but also promote the whole body blood circulation, relieve the whole body fatigue. Pls kindly note that the rollers are not motorized, just move your feet to enjoy. A small detachable case inside the massager for spa materials such as bath salts.
[Exfoliating loofah disks & Soft-touch Massager]: Exfoliating loofah disks gently contains can instantly remove aged keratose and calluseson sole and heel, pure natural plant without harm to tender skin. Soft-touch Massager make your sole enjoy and relax as if it is pressed gently by your fingers. This is a great way to smooth your feet and heels, with a foot spa massage to improve the appearance of your skin and keep it tender and smooth.
Specification:
Material: Plastic
Product Size 13.3″x15.4″x7″
Weighs 3.3 lbs
Keep Water Warm Function
4 Massage Rollers
2 Bubble Aperture
Red Light (Infrared) Relieve Stress
Ergonomically Designed for Your Legs and Feet